Posts for: March, 2013
By Dentistry of Lombard
March 22, 2013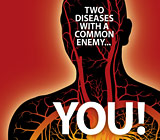 The increasing rates of obesity and diabetes in Americans have been getting a lot of attention lately. Most people know that the two are clearly linked. But did you know there's also strong evidence of a link between diabetes and gum disease?
Both diabetes and periodontal (gum) disease are chronic inflammatory conditions. That means they are disorders that develop over time (chronic), and are characterized by problems with a function of the immune system (inflammation). In diabetes, problems with the hormone insulin lead to abnormal levels of sugar in the blood. This can bring about a number of complications which, if not treated, may result in kidney failure, coma and even death. In many people, however, it's a condition that can be managed with drugs and lifestyle changes.
You may not think of gum disease (periodontitis) as a serious illness. But here's something you should know: If you have diabetes, having gum disease is a risk factor for worsening control of blood glucose levels, and may also increase the risk of complications. Likewise, having diabetes puts you at greater risk for developing more severe forms of periodontal disease.
What is gum disease? It's actually a group of diseases caused by many types of bacteria in the mouth, which affect the tissues around the teeth. Initially, it often causes swelling and redness of the gum tissue. Left untreated, it may result in bone loss, abscess formation, and ultimately the loss of teeth. But its ill effects aren't limited to your mouth.
Periodontal inflammation is associated with a higher systemic (whole-body) inflammatory state. That means it may increase your risk for cardiovascular diseases like heart attack and stroke, and adverse pregnancy outcomes — as well as complicating the management of blood-sugar levels in diabetics.
Now, here's the good news: Treatment of periodontal disease which reduces inflammation has a beneficial impact on the inflammatory status of the whole body. For people who have both diabetes and periodontal disease, that means that periodontal therapy can lead to improved blood sugar control.
How do you know if you have periodontal disease? Bleeding gums and bad breath are both possible symptoms, as are redness and soreness of the gum tissues. But these warning signs may be masked by any number of other factors — or may not be noticed at all.
The sure-fire way to diagnose and treat periodontal disease is by getting regular dental checkups, followed by specialized periodontal treatment when necessary. If you presently have diabetes, or may be at risk for developing the disease, those check-ups and treatments are even more important.
If you have concerns about diabetes and gum disease, please contact us or schedule an appointment for a consultation. You can learn more in the Dear Doctor magazine articles "Diabetes & Periodontal Disease" and "Understanding Gum (Periodontal) Disease."
By Dentistry of Lombard
March 07, 2013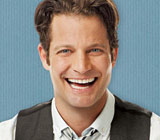 Perhaps you've seen Nate Berkus on The Oprah Winfrey Show or watched his television program, The Nate Berkus Show. You may even have read his best-selling book, Home Rules: Transform the Place You Live Into a Place You'll Love. Regardless of where or how you discovered Berkus, you will surely have noticed his dazzling smile.
Berkus recently opened up about the facts behind his trademark smile during an interview with Dear Doctor magazine. First off, his smile is totally natural, as he never wore braces or had any cosmetic work, including porcelain veneers. However, Berkus does give credit to his childhood dentist for the preventative healthcare he received as a young boy. "I'm grateful for having been given fluoride treatments and sealants as a child," he said. Nate also shared the important flossing advice he learned from his dentist that he still follows today: "Floss the ones you want to keep." Berkus went on to say that he feels, "healthy habits should start at a young age."
And we totally agree! For this reason we have put together the following list of facts and oral hygiene tips:
Over 50% of plaque accumulation occurs in the protected areas between teeth — a place that may be difficult or even impossible to reach with a toothbrush.
A thorough brushing may take up to two minutes at first, and it may feel awkward as you reach some places in your mouth.
Remember, more is NOT always better! Brushing or flossing too hard can be damaging to your teeth and gums. And never saw back and forth with your floss.
To learn more about oral hygiene, including brushing and flossing techniques, you can continue reading the Dear Doctor article "Oral Hygiene Behavior - Dental Health For Life." Or you can contact us today to schedule an appointment so that we can conduct a thorough examination, review your brushing and flossing techniques, and discuss any questions you have as well as treatment options. As needed, we will work with you to teach you the proper brushing and flossing techniques so that you feel confident before you leave our office. And to read the entire interview with Nate Berkus, please see the Dear Doctor article "Nate Berkus."