Posts for: July, 2013
By Dentistry of Lombard
July 30, 2013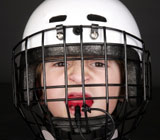 What is a mouthguard? A mouthguard or mouth protector is a protective appliance that covers the teeth and gums to prevent or reduce injury to the teeth, gums, jaws, and lips during sports or other activities prone to injuries.
Who should use a mouthguard? Children, adolescents or even adults who participate in contact or injury prone sports should use a mouthguard.
What do you mean by contact sports? Mouthguards are used most commonly in sports such as boxing, football, hockey and lacrosse. The American Dental Association recommends protection for 27 different sports, including basketball, soccer, water polo, rugby and more. The governing bodies of football, boxing, ice hockey, men's lacrosse and women's field hockey require mouth protection. It's a good idea to use a mouthguard during any activity that could result in a blow to the face or mouth.
What does the mouthguard protect against? A mouthguard protects against breaking or dislodging teeth or injuring jaws, gums, lips, or tongue, all injuries that can happen when you engage in contact or injury prone sports.
What are my choices for mouthguards? The best choice is a custom-made mouthguard fitted and made by a dentist. Stock mouthguards that are one size fits all can be bought off-the-shelf in stores, but there is no guarantee of fit or protection. A third type is a "boil and bite" guard, in which the guard material is heated and then shaped by biting down on the softened material. This offers some attempt at fitting that is better than off-the-shelf, but not as good as a mouthguard that is designed specifically for you.
Why is it better to get a mouthguard from our office than to buy one at a store? Studies have shown that store-bought stock or boil-and-bite mouthguards do not offer the same protection as a custom-made mouthguard. In our office we will make a mold of your mouth and design your mouthguard to fit your individual characteristics. It will be comfortable and easy to clean and will not restrict your speech or breathing. It will be made of resilient and tear-resistant materials, properly adapted for maximum protection, comfort and injury protection.
Wearing a properly fitted and properly used mouthguard prevents injuries to teeth, jaws, gums, lips, or tongue when you or your child participates in contact sports. Make an appointment with us to discuss your custom fitted mouthguard. To learn more read the Dear Doctor magazine article "Mouthguards."
By Dentistry of Lombard
July 15, 2013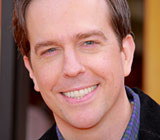 The lengths that some comedians will go to for a laugh! Actor Ed Helms, as dentist Stu Price, pulled out his own tooth in the movie The Hangover. Or did he? Turns out Helms really is missing a tooth, which never grew in. When he was in his late teens, he received a dental implant to make his smile look completely natural.
Helms told People magazine he wasn't exactly eager to remove the implant crown that had served him so well for almost 20 years, but there was no better way to do the famous tooth-pulling scene.
"We started to do different tests with prosthetics and blacking it out and nothing worked," Helms told the magazine. Helms' dentist said it would be okay to take the implant crown out. "My dentist was really into it," Helms said. The rest is movie history!
Congenitally missing ("con" – together with; "genital" – relating to birth) teeth are inherited and actually quite common. More than 20% of people lack one or more wisdom teeth, for example. These would not usually be replaced if missing (in fact, wisdom teeth are often removed) but it's a more serious issue when the missing tooth is in the front of the mouth — and not just for aesthetic reasons.
When a particular type of tooth is missing, it disrupts the pattern and function of the teeth. If left alone, sometimes the existing teeth will shift to close the gap. It's like removing a brick from an arch — the rest of the bricks would fall together in a different formation (or collapse entirely). And when upper and lower teeth don't come together properly, they can't function well.
The best treatment for this type of situation is the one Ed Helms had: a dental implant. They look and function like real teeth and do not attach to or damage adjacent teeth as other tooth-replacement options might.
It is important that a child with a congenitally missing tooth wait until jaw growth is complete — different for every person but usually in the late teens — before getting an implant. Otherwise, the artificial tooth might eventually appear too short when the person has stopped growing. In the meantime, there are temporary tooth replacements that can be made.
If you would like more information about options for congenitally missing teeth, please contact us or schedule an appointment for a consultation. You can learn more by reading the Dear Doctor magazine article "When Permanent Teeth Don't Grow." Dear Doctor also has more on "Teenagers & Dental Implants."