Posts for: January, 2014
By Dentistry of Lombard
January 23, 2014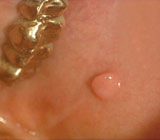 Your mouth's biting and chewing function is an intricate interplay of your teeth, jaws, lips, cheeks and tongue. Most of the time everything works in orderly fashion, but occasionally the soft tissues of the tongue or cheeks get in the way and are accidentally bitten. The resultant wound creates a traumatic fibroma, an overgrowth of tissue that develops to cover the affected area.
A fibroma consists of fibrous tissue made up of the protein collagen; this traumatized tissue functions much like a callous on a tender spot of skin by binding together the new tissues forming as the wound heals. But because the fibroma is raised on the surface of the cheek more than normal tissue, the chances are high it will be bitten again and reinjured, even multiple times. If this occurs the fibroma becomes tougher and more pronounced.
As it becomes raised and hardened in this way, it becomes more noticeable. More than likely, though, it poses no danger other than as an inconvenience. If it becomes too much of a nuisance, or you have concerns that it's more than a benign growth, it can be removed with a simple fifteen-minute procedure. An oral surgeon, periodontist or dentist with surgical training will first anesthetize the area with a local anesthetic; the fibroma is then completely excised (removed) and the wound opening sutured with two or three small sutures. Any post-procedure discomfort should be mild and easily managed by pain medication like aspirin or ibuprofen.
Although it's highly unlikely the fibroma is cancerous, the excised tissue should then be sent for biopsy. Viewing the tissue microscopically is the only definitive way to determine the true nature of the tissue and confirm any diagnosis that the tissue is benign. This is no cause for alarm as it's a standard healthcare procedure to biopsy this particular kind of excised tissue.
"Bumps and lumps" are common occurrences in the mouth. It's a good idea to point them out to us during your regular checkups or at any time if you have a concern. In either case, this bothersome problem can be easily treated.
If you would like more information on traumatic fibromas, please contact us or schedule an appointment for a consultation. You can also learn more about this topic by reading the Dear Doctor magazine article "Common Lumps and Bumps in the Mouth."
By Dentistry of Lombard
January 08, 2014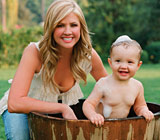 During Nancy O'Dell's interview with Dear Doctor magazine, the former co-anchor of Access Hollywood and new co-anchor of Entertainment Tonight could not resist her journalistic instincts to turn the tables so that she could learn more about a baby's oral health. Here are just some of the facts she learned from the publisher of Dear Doctor about childhood tooth decay, pacifier use and what the right age is for a child's first visit to the dentist.
Many moms-to-be and parents or caregivers of young children are surprised to learn that around age 1 is the ideal time to schedule a child's first visit to the dentist. This visit is crucial because it sets the stage for the child's oral health for the rest of his or her life. It can also be quite beneficial for the parents, too, as they can be reassured that there are no problems with development and that the child's teeth appear to be growing properly. And if by chance we identify any concerns, we will discuss them with you as well as any necessary treatment strategies.
Nancy also wanted to learn more about pacifiers — specifically, if it is a good idea for parents to encourage their use. Obviously, children are born with a natural instinct for sucking, so giving a child a pacifier seems totally harmless. Pacifiers definitely have some advantages; however, if used for too long — past the age of 18 months — they can cause long-term changes in the child's developing mouth (both the teeth and the jaws).
Another problem that parents and caregivers need to be aware of is baby bottle syndrome. This is a condition that develops in children who are perpetually sucking on a baby bottle filled with sugary fluids such as formula, fruit juices, cola or any liquids containing a large amount of sugar, honey or other sweeteners. It is important to note that a mother's own breast milk or cow's milk are good choices for feeding babies, as they both contain lactose, a natural sugar that is less likely to cause decay. However, if these liquids are placed in a bottle and a child is allowed to suck on it throughout the night, they, too, can promote tooth decay. The key is to feed your child properly while avoiding all-night feedings and liquids loaded with sugar.
To read the entire Dear Doctor magazine article on Nancy O'Dell as well as to learn more about a baby's oral health, continue reading "Nancy O'Dell — A life full of smiles." Or you can contact us today to schedule an appointment so that we can conduct a thorough examination, listen to your concerns, answer your questions and discuss any necessary treatment options.