Posts for: March, 2014
By Dentistry of Lombard
March 18, 2014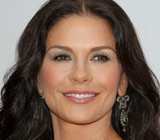 She received an academy award for best supporting actress in Chicago (2002); she regularly stars in big Hollywood films like Oceans Twelve and Side Effects. And she's been named one of People magazine's "most beautiful people" of the year… a total of five times so far. According to big-screen heartthrob Antonio Banderas, "She has one of the most beautiful close-ups in cinematography today."
So would it surprise you to learn that Catherine Zeta-Jones had a little help from cosmetic dentistry along the way? In her childhood, the actress said, "I was teased because I had a really flat-looking nose, and before I got braces, my teeth used to stick out a bit." According to press reports, she has also had various dental treatments to make her teeth look whiter and more even.
Because she's been in the spotlight since a young age, Zeta-Jones had her cosmetic dental treatments performed over a number of years. But if you're unhappy with your smile right now, there's no need to wait: Getting a complete "smile makeover" starts with a consultation at our office. How does it work?
We begin with a thorough dental exam to check for any underlying issues, and some basic questions, including: What do you (and don't you) like about your smile? Are your teeth as even and as white as you'd like them to be? Is your smile too "gummy", or do the teeth seem too large or small in proportion to your facial features? Do gaps, chips or cracked teeth detract from your appearance?
Next, working together with you, we can develop a plan to correct any perceived problems in your smile. We've already mentioned two of the most common ways to enhance a smile that's less than perfect: orthodontics for straightening crooked teeth, and whitening treatments for a more brilliant smile. If your teeth are otherwise healthy, both treatments can be performed at any time — in fact, more and more of today's orthodontic patients are adults.
Other treatments that are often used include cosmetic bonding to repair small to moderate chips or cracks in teeth; crowns (caps) to restore teeth with more extensive structural damage; and veneers to remedy a number of defects — including discoloration, small irregularities in tooth spacing, and even teeth that appear too long or too short. Plus, we have even more procedures designed to remedy specific dental issues.
Will having a better smile get you on the "most beautiful people" list? We can't say for sure. But we think you'll feel better about yourself… and people will notice.
If you would like more information on smile makeovers, please contact us or schedule an appointment for a consultation. You can learn more in the Dear Doctor articles "The Impact of a Smile Makeover" and "Great Expectations — Perceptions in Smile Design."
By Dentistry of Lombard
March 03, 2014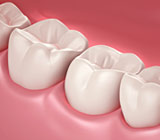 Getting a new crown for a front tooth is a standard procedure performed in thousands of dental offices around the country. But dental patients are sometimes surprised to find that the price of this routine treatment can vary by a substantial amount. What accounts for the difference? The answer tells us a lot about how crowns are made, and the value of aesthetics in dentistry.
Crowns may be made of several different materials. Gold, the most traditional restoration material, makes for a time-tested, functional and durable crown, lasting as long as 50 years. Gold is a precious (and expensive) metal, but considered over the lifetime of the restoration, it's an economical choice. Yet, even for back teeth, it's losing out in popularity to more aesthetically pleasing alternatives.
Porcelain-fused-to-metal (PFM) crowns and all-porcelain crowns replicate the look of natural teeth more accurately. The kind of porcelain used in restorations must have special strengtheners added, which enable it to stand up to wear and tear in the mouth. There are different porcelain materials used in dental restoration, each with a different look, quality and longevity. There are also new, high-tech ceramic materials. Each one has advantages and drawbacks, and each one's cost is different.
Besides the material, another large part of a crown's cost is the custom-fabrication of every piece. Since it must match the other teeth in form and function — and often in looks as well — every crown must be made to an individual's exact requirements. This includes the tooth's exact size and shape, its spacing, and (often) its particular color.
Making this happen is a multi-step process. First, a dentist carefully prepares a model of the affected tooth and its neighbors. Then, the fabrication work is normally performed by a highly skilled laboratory technician, at the dentist's direction. Finally, the dentist prepares the tooth for the restoration, performs final adjustments, and attaches the finished crown. When it's done, the restored tooth can be difficult to tell apart from any other.
The level of craftsmanship involved at the dental laboratory can vary — and along with it, the price. Dentists may even choose different technicians based on the quality level they're striving for. All of these factors affect the final cost of the crown, and its value to the patient.
It has been said that beauty is in the eye of the beholder, and this is certainly true in the case of dental restorations. The choice of a "best" crown is different for every person — more than one alternative may be available, and each comes with its own price. If you have more questions about your options for a crown restoration, don't hesitate to ask us!
If you would like more information about crowns, please contact us or schedule an appointment for a consultation. You can also learn more about this topic by reading the Dear Doctor magazine articles "Value of Quality Care," "Porcelain Crowns & Veneers," and "Gold or Porcelain Crowns."