Posts for: January, 2015
By Dentistry of Lombard
January 28, 2015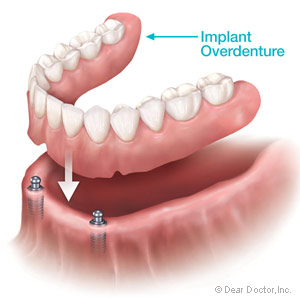 Some patients who wear dentures face a kind of Catch-22: their denture fit may have loosened and become uncomfortable over time due to continued bone loss, yet the same bone loss prevents them from obtaining dental implants, a superior tooth replacement system to dentures.
But there may be a solution to this dilemma that combines the stability of implants with a removable denture. A set of smaller diameter implants — "mini-implants" — can support a removable denture with less bone than required by a conventional implant.
Like all living tissue, bone has a life cycle: after a period of growth, the older bone dissolves and is absorbed by the body, a process known as resorption. The forces generated when we bite or chew are transmitted by the teeth to the jawbones, which stimulates new bone formation to replace the resorbed bone. When the teeth are lost, however, the stimulation is lost too; without it, resorption will eventually outpace bone growth and repair, causing the bone mass to shrink.
Removable dentures also can't supply the missing stimulation — bone loss continues as if the dentures weren't there; and due to the compressive forces of a denture, bone loss accelerates. As the jawbone structure used to originally form the denture's fit eventually shrinks, the denture becomes loose and difficult to wear. It's possible to adjust to the new jaw contours by relining the dentures with new material or creating a new set of dentures that match the current bone mass. Without adequate bone, fixed crowns or bridges anchored by conventional implants may also be out of the picture.
On the other hand, mini-implants with their smaller diameter need less bone than the traditional implant. A few strategically placed within the jaw are strong and stable enough to support a removable denture. One other advantage: these mini-implants can be installed in one visit with local anesthesia and usually without the need for incisions or stitches.
If you would like more information on dentures supported by mini-implants, please contact us or schedule an appointment for a consultation. You can also learn more about this topic by reading the Dear Doctor magazine article "The 'Great' Mini-Implant."
By Dentistry of Lombard
January 13, 2015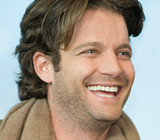 Prior to his first appearance on the Oprah Winfrey show, interior designer Nate Berkus knew immediately that he was not there to pick sofa colors and paint chips. Instead, he was there to lift people up through the way they live. And boy, did he do just that. Over the next eight years, Berkus completed 127 makeovers and became one of America's most beloved go-to guys for inspiration on the latest design trends.
During a recent interview with Dear Doctor magazine, Nate discussed his career as well as his oral healthcare. He credits his dazzling all-natural smile — no cosmetic dentistry here — to the treatments he received as a child from his dentist. "I'm grateful for having been given fluoride treatments and sealants as a child." He then added that, "healthy habits should start at a young age." Nate is still in the habit of brushing his teeth two or three times a day. As for flossing his teeth, he credits his dentist with the advice he still follows: "Floss the ones you want to keep."
Many parents and caregivers may not be aware of the important role fluoride treatments play in protecting children's teeth. Fluoride has the unique ability to strengthen tooth enamel, the hardest substance found in nature. Depending on where you live, you may have fluoridated tap water. You may also have fluoride in your toothpaste, depending on the brand you use. Both of these are beneficial, but sometimes we recommend additional fluoride treatments based on the specific needs of your children. Why? The concentrations of the topical fluorides we typically apply are much higher than what is found in toothpastes, and we apply them for a longer period of time. For example, we often apply them for four minutes per treatment session.
To learn more about fluoride treatments, contact us today to schedule an appointment so that we can conduct a thorough examination, discuss any questions you have as well as what treatment options will be best for you or your child. Or to learn more about fluoride treatments now, you can continue reading the Dear Doctor magazine article "Topical Fluoride." And to read the entire interview with Nate Berkus, please see the Dear Doctor magazine article "Nate Berkus."