Posts for tag: snoring
By Dentistry of Lombard
March 19, 2019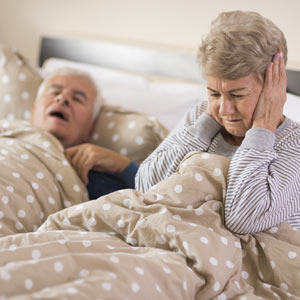 Fatigue, irritability and family complaints about snoring — all tell-tale signs you may have sleep apnea. There's more to this condition than being grouchy the next day — the long-term effect could increase your risks for life-threatening diseases.
But how do you know if you actually have sleep apnea? And if you do, what can you do about it?
Undergo an exam by a physician trained in "sleep medicine." Sleep apnea occurs when the airway becomes blocked while you sleep, dropping the body's oxygen levels; your body awakens to re-open the airway. The event may only last a few seconds, but it can occur several times a night. Even so, sleep apnea is one potential cause among others for snoring or fatigue. To know for sure if you have sleep apnea you'll need to undergo an examination by a physician trained to diagnose this condition. He or she may then refer you to a dentist to make a sleep appliance if you have mild to moderate apnea.
Determine the level of your apnea's intensity. Not all cases of sleep apnea are equal — they can range in cause and intensity from mild to advanced, the latter a reason for concern and focused intervention. Your physician may use different methods for determining the intensity of your case: review of your medical history, examining the structures within your mouth or having your sleep observed directly at a sleep lab. Getting the full picture about your sleep apnea will make it easier to develop a treatment plan.
Match the appropriate treatment to your level of sleep apnea. If you have moderate to advanced apnea, you may benefit from continuous positive airway pressure (CPAP) therapy, an electrical pump that delivers pressurized air through a mask worn while you sleep that gently forces the airway open. It's quite effective, but uncomfortable to wear for some people. Advanced cases may also require surgery to alter or remove soft tissue obstructions. If, you have mild to slightly moderate apnea, though, your dentist may have the solution: a custom-fitted mouth guard that moves the tongue, the most common airway obstruction, down and away from the back of the throat.
If you suspect you may have sleep apnea, see a trained physician for an examination. It's your first step to a good night's sleep and better overall health.
If you would like more information on sleep apnea treatments, please contact us or schedule an appointment for a consultation. You can also learn more about this topic by reading the Dear Doctor magazine article "If You Snore, You Must Read More!"
By Dentistry of Lombard
March 09, 2015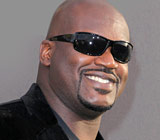 You may think snoring is a minor problem, but it can be a lot more than that. Just ask hoops star Shaquille O'Neal, whose rambunctious snoring bothered his girlfriend enough for her to suspect a health problem. Her observations eventually led to Shaq's diagnosis of moderate Obstructive Sleep Apnea (OSA), which occurs when the soft tissue structures at the back of a person's throat, including the tongue, partially close off the upper airway and prevent air from moving into the lungs during sleep. Sometimes airflow can be blocked completely for 10 or more seconds.
When air flow is reduced, blood oxygen levels drop. This leads to brief waking episodes known as "micro-arousals," which can happen sometimes more than 50 times an hour. The sleeper might not even be aware of this, even while gasping for air. Micro-arousals prevent the person from ever reaching deep, restful sleep.
Besides suffering from excessive daytime sleepiness, studies show sleep apnea patients are at higher risks of heart attacks, congestive heart failure, high blood pressure, brain damage and strokes. People with sleep apnea also have a higher incidence of work and driving-related accidents.
OSA can be treated in a few different ways. On the advice of his doctor, Shaq opted for a Continuous Positive Airway Pressure (CPAP) machine, which generates pressurized air delivered through a face mask worn while sleeping. The force of the pressurized air opens the airway (windpipe) in the same way as blowing into a balloon does.
For people with milder OSA, or who find they can't tolerate wearing a mask during sleep, an oral appliance supplied by a dental professional might be the answer. Oral appliances are worn in the mouth and are designed to gently reposition the jaw and move the tongue forward away from the back of the throat. Success rates of 80% or more have been reported using oral appliances, depending on the severity of the OSA.
If you would like more information on sleep apnea, please contact us or schedule an appointment for a consultation. You can learn more about sleep apnea by reading the Dear Doctor magazine article "Snoring & Sleep Apnea." Dear Doctor also has more on "Sleep Disorders & Dentistry."